Shrove Pancake & Sausage Supper
Shrove Tuesday, also known as Fat Tuesday or Mardi Gras is the last day of feasting before Lent begins.
Shrove Tuesday Pancake Supper
Tickets in Advance or at the Door….Let's have some fun on Tuesday, February 21th
5:00 – 7:00 p.m.
$10 Adults $5 Children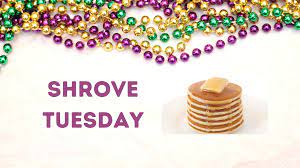 Shrove Tuesday is a day in which one uses up all the fattening ingredients in the house before Lent. This allowed people to be able to fast during Lent without the temptations of those items in their homes.
So join us at Good Shepherd Episcopal Church and enjoy pancakes and fellowship.